Are you fed up with going to stores to shop for groceries? Then, Read this article to find the Best Online Grocery Shopping Apps in Chennai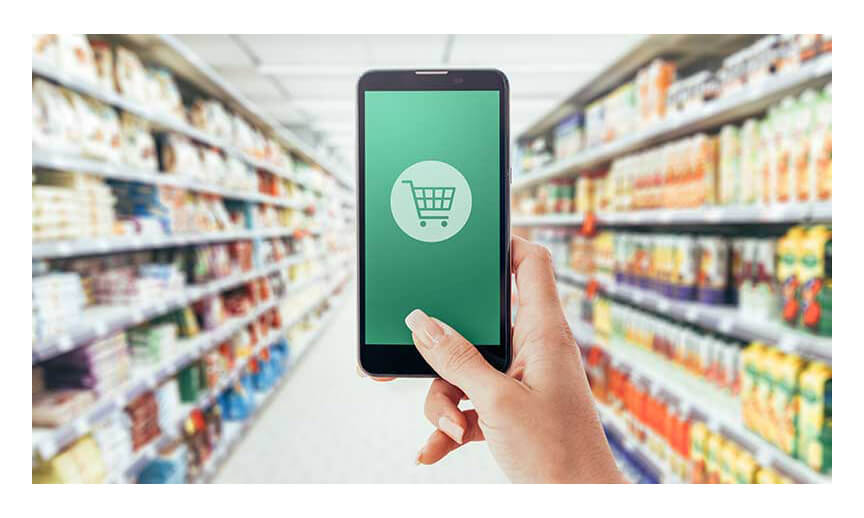 Introduction
Do you want to avoid shopping for groceries, running into various shops, and waiting in long queues? Why spend your weekends shopping for your weekly or monthly groceries when you can do it with your smartphone or tablet? Online grocery delivery has evolved as a common alternative to traditional food shopping. Customers constantly rely on digital platforms for their daily needs with flexibility and ease. All you have to do is choose what you need to buy, pay for it, and have it delivered to your doorstep. This saves a lot of time and offers a neat and simple experience.
Chennai is one of the rapidly developing cities in our country, shaping up and staying up-to-date with the latest technological advancements. Over the past few years, Online Grocery Shopping has become famous and a time-saving activity for people who spend their time in various shops trying to get what they need. This is done through mobile applications which let people pay via various payment methods. This is so easy that anyone with basic smartphone knowledge can use this alternative.
Below is a list of some popular and easy-to-use online grocery apps available in Chennai.
1. BigBasket
Being the most popular online grocery app in Chennai, BigBasket offers groceries for everyday household needs. Founded in 2011, BigBasket is now one of the favourite choices for people who prefer the ease of shopping online and having products delivered to their doorstep. You can go through a wide selection of various products, ranging from groceries to household needs. The platform is easy to use as it has a simple and easily understandable user interface.
You will always be satisfied with the quality of the products you purchase from BigBasket. BigBasket has also associated with local suppliers and farmers to produce fresh products, which benefits both the sellers and the consumers. BigBasket also has got strict inspection protocols before the products are sent out for delivery.
Discounts are one of the most favorite parts of shopping in BigBasket. Offers and discounts are often provided at weekends and for festive days like Diwali and Pongal. If you want to shop for groceries on a low budget occasionally, you can go with BigBasket. Different payment options are offered, including cash on delivery and payments through online portals such as Net Banking and UPI.
Same-day delivery is offered in many areas, which attracts more customers to this service. Apart from all this, BigBasket has a truly nice customer care service, where queries can be raised and answered within a day.
Products available on BigBasket:
Fresh Produce: A wide range of fresh vegetables, fruits, and organic products are also available.
Household Needs: Offers a variety of household essentials such as cleaning products, detergents, and also products for hygienic care.
Dairy and Bakery Products: Products such as Milk and its derivatives, cheese and curd, and bakery items such as bread are also available.
Snacks: Packed foods like chips, biscuits, and chocolates are available.
Lastly, Bigbasket has a wide range of products, which makes it a pit-stop for all grocery and household needs.
Available on both Android and iOS.
2. Grofers
Grofers has been in business for almost 9 years and has become popular due to its online grocery deliveries. This service was created in response to the increasing need for online deliveries. Grofers is currently available in over 30 cities across India. Grofers, like most applications, offers an easy-to-use interface that allows users to explore the application and its various products.
One of the most remarkable advantages of Grofers is its low-cost availability of products. Consumers could also save money using this to their advantage of unique discounts and promotions regularly accessible on the platform, and the service has reasonable costs. Grofers also offers free delivery on purchases over a specific cost amount, which can help clients save even more money on their grocery costs.
Grofers also has a one-of-a-kind subscription called the "Smart Bachat Club," which gives customers additional discounts and benefits. Customers who are part of the Smart Bachat Club members receive exclusive product discounts, free shipping on all orders, and first access to special offers and discounts.
Grofers also offers a dependable and quick shipping service. Customers can follow their purchases in live time through the app, and the company guarantees that the goods will arrive within the time given. Grofers also accepts payment upon delivery, credit/debit card payments, and mobile app payments, making it simple for customers to pay for their products.
Products available on Grofers:
Fruits and Vegetables: Fresh products are always available for purchase.
Baby Care: Required essentials for newborns are also available.
Pet Care: Food and hygienic items for your beloved pets are available.
Wellness Items: Common healthcare items like Handwash, Soap, Toothpaste, ORS solutions, and Antacids are available for purchase.
Frozen Meat: Various kinds of frozen chicken dishes are available.
Grofers has gained popularity among customers seeking an affordable, quick, and efficient online grocery delivery option.
Available on both Android and iOS.
3. Amazon Pantry
Amazon Pantry is one of the most popular and most used online grocery shopping services available in certain countries, including India, the United States, and the United Kingdom. This allows consumers to purchase groceries and household needs from a wide selection of products and have them delivered to their doorsteps.
Amazon Pantry also provides competitive costs and price reductions on various goods. Consumers can save money by shopping in bulk or taking full advantage of periodic sales and promotions. Furthermore, Prime members may get free delivery on Grocery purchases, making it cheaper.
Amazon Pantry allows users to purchase groceries and household goods in different sizes that are too overpriced to deliver for free. As a result, there is a delivery fee of Rs 30 for Prime members and Rs 59 for non-Prime members. Even so, delivery is free if your Grocery order exceeds Rs 799.
Amazon Pantry offers many distinct features that separate it from other grocery delivery services. For example, the service features a feature called "Pantry Picks," which provides a customized choice of goods based on prior purchases made by the customer. Customers can easily find things they have previously purchased and may wish to purchase again due to this.
The purchasing of goods in this portal is similar to that of the Amazon Shopping Website, where you might have purchased many products.
Products available on Amazon Pantry:
Beverages and Food: Amazon Pantry sells snacks, breakfast items, tinned food, pasta, rice, baking items, coffee, and tea, as well as other food and beverage items.
Cleaning and Home Supplies: You can also find detergent, dishwashing liquid, hand towels, toilet rolls, cleaning supplies, and other cleaning and household basics on Amazon Pantry.
Health and Beauty: Amazon Pantry also sells medicines, pills, supplements, cosmetics, makeup, and hair care items such as shampoos and conditioners.
Amazon Pantry is a useful addition to many people's lives. The service's ease, variety, and low cost make it a desirable alternative for many consumers. As online shopping becomes more popular, services such as Amazon Pantry will likely become more popular and essential.
Available on both Android and iOS.
4. Flipkart Supermart
Flipkart is currently the largest and leading e-commerce portal in our country. Customers can get various shopping and household items online and have them shipped to their doorsteps. Customers can expect Flipkart Supermart to provide them with ease, convenience, and a smooth online shopping experience.
One of the primary benefits of Flipkart Supermart is its extensive product range. Fresh produce, dairy goods, household needs, and processed foods are among customers' many options. This gives consumers more options and reduces the time and work in looking for the things they require.
The user-friendly interface is another aspect that differentiates Flipkart Supermart from other services. The website is straightforward, with distinct sections, categories, and search functions. Consumers may select the things they require and add items to their Basket, and also the checkout process is simple. Customers may also find thorough product information, nutrition facts, and customer reviews on the platform, which allows them to make informed choices when buying.
Flipkart Supermart also emphasizes product quality and freshness. It obtains its items from trustworthy vendors and ensures they're of the greatest quality. It also has a strict quality control system to guarantee that the goods are fresh and up to grade. Furthermore, Flipkart Supermart provides a trouble-free delivery process. Consumers can select their desired delivery time, which is brought directly to their door. In addition, the platform provides real-time information on the order's status, from processing through delivery.
Products available on Flipkart Supermart:
Fruits and Vegetables: Consumers can select from various vegetables and fruits, including seasonal and rare varieties. The products are of the greatest quality and are supplied by reliable vendors.
Packaged foods: Flipkart Supermart provides a wide selection of products such as snacks, microwave meals, and cereals. Consumers can quickly browse the products and select those that best meet their needs.
Beverages: Fruit juices, smoothies, and sports drinks are also available. Consumers can select from various brands and flavours and have them delivered to their door. Green Tea, black tea, and ground coffee are among the tea and coffee alternatives available on the platform.
Personal care: It sells a broad range of goods, including cosmetics, hair care products, and hygiene products. Consumers can select from various brands and goods to meet their requirements.
Flipkart Supermart provides a wide choice of products to meet the different demands of its customers. Customers choose it for daily grocery shopping because of its commitment to excellence, price, and convenience.
Available on both Android and iOS.
5. Dunzo
Dunzo is an Indian firm that provides hyperlocal delivery. It was established in 2015. Dunzo is a one-of-a-kind platform that enables consumers to have goods delivered from any local retailer in their neighbourhood on time. The company has expanded fast over the past few years and is present in various Indian towns. Dunzo's hyperlocal delivery service is one of its distinguishing features.
Consumers can order goods from any business in their neighbourhood and deliver them to their houses in just a few hours. Due to this functionality, Dunzo has been popular among clients who value ease and quickness. Dunzo's user-friendly UI is another significant aspect. Customers may quickly purchase by choosing the shop, placing the goods in their Basket, and paying on the platform. The site also accepts delivery cash, credit/debit cards, and online banking as payment methods.
Dunzo also provides a wide array of services and goods. Consumers can use the platform to order groceries, food, pharmaceuticals, pet food, and even washing services. Customers may also take advantage of multiple offers and savings on the platform, making it a low-cost alternative for hyperlocal delivery.
Dunzo's drug delivery service is another popular service. Consumers may quickly upload their prescriptions to the system and also have their medications delivered directly to their homes. Dunzo provides pick-up and drop-off services for various jobs, including laundry, document sharing, and more, in addition to shopping and pharmaceutical delivery. This offers an easy process for people who want a one-stop shop for everyday necessities.
Furthermore, Dunzo has been working hard to improve its sustainability and reduce its carbon footprint. It has adopted electric cars for its transportation and distribution in some cities and cooperated with several organizations to recover plastic garbage.
Products available on Dunzo:
Groceries: fresh produce, dairy goods, baked goods, and processed foods are all available at Dunzo. It also provides various organic and nutritious options for those who value healthy eating.
Medicines: Dunzo collaborates with nearby pharmacists to supply medicines to consumers' doorsteps. It ensures that medications are supplied safely and efficiently and provides a variety of healthcare supplies, such as supplements and vitamins.
Food: Dunzo collaborates with local eateries and coffee shops to provide food options such as breakfast foods, snacks, and full dinners. It also serves a variety of cuisines such as Indian, Chinese, Italian, and others.
Pick-up and Drop-off products: You can also have your important and forgotten products delivered or sent to your friends and family with Dunzo.
Dunzo provides a wide variety of goods and services to meet the demands of its customers. Customers like it for everyday necessities because of its dedication to excellence, accessibility, and safety.
Available on both Android and iOS.
6. JioMart
JioMart is an e-commerce grocery delivery business founded by Reliance, a large Indian company, in 2020. Because of its ease, affordability, and a vast choice of products, it has swiftly gained favour among Indian consumers. JioMart is a service that links people with local grocery stores, letting customers buy groceries and bring them to their door.
JioMart's diversified product range is one of its distinctive aspects. It sells various foodstuffs, such as fruits and vegetables, dairy foods, processed foods, and daily necessities. Consumers can browse the goods on the JioMart website or application and select their requirements. The platform also provides interesting discounts and bargains, making grocery shopping cheaper for users.
JioMart's innovative way of uniting local grocery stores with consumers also have benefited Indian small businesses. JioMart has provided local stores an internet platform to access a bigger audience, improving their revenue and profits. This has proven especially helpful for medium to small-sized food stores that have struggled to keep up with bigger merchants.
Furthermore, JioMart's consumer-friendly app and website allow users to easily place orders, track shipments, and maintain their accounts. In addition, the platform provides customer assistance to handle any difficulties or concerns clients may have. This level of consumer service has quickly enabled JioMart to build a devoted customer base.
JioMart's efficient delivery system is another important advantage. The company guarantees that goods will be delivered within a couple of hours of the order being placed, making it a practical choice for busy customers. Consumers looking to save money will like that shipping is free for purchases over a specific amount.
Products available on JioMart:
Fresh Fruits and Vegetables: Freshly produced veggies and fruits from local farmers are sold on JioMart, commonly purchased by major consumers.
Packed Foods: JioMart provides a wide range of packed foods such as instant noodles, biscuits, chips, and much more from popular brands like Sunfeast and Maggi.
Dairy Foods: JioMart also provides Milk and its derivatives, such as curd, cheese, and butter, from popular brands like Amul.
Cooking Ingredients: Major ingredients used in cooking, like, dal, sugar, salt, oil, and masala products, are also sold on JioMart.
Healthcare: Healthcare products such as vitamins, additives, and remedies from major brands like The Himalayas and Dabur are also available.
As an Indian grocery delivery service, JioMart has become an important choice. JioMart's popularity in the Indian market is anticipated to continue because of its focus on client happiness.
Available on both Android and iOS.
7. Nature's Basket
Nature's Basket is a popular online grocery delivery service that offers a diverse selection of fresh food items of the highest quality. The company seeks to provide its consumers with an exceptional shopping experience through its creative and user-friendly platform. It has grown in popularity among consumers in recent years.
The range of food goods offered by Nature's Basket is one of its key advantages. The company's products range from fresh produce and fruits to meats, dairy, and bread. Moreover, Nature's Basket chooses its products from reliable vendors, guaranteeing that clients obtain high-quality goods. Consumers may quickly navigate the website and find products that meet their needs.
Nature's Basket's convenient delivery service is another essential aspect. Consumers can place orders via the mobile application or website, delivered right to their doors. The organization offers a dependable delivery system that assures timely delivery. Furthermore, Nature's Basket provides free delivery on purchases over a given amount, which is a massive consumer benefit.
Nature's Basket also features a user-friendly portal allowing users to browse merchandise and order easily. Customers can rapidly locate goods according to their needs on the mobile application and website. Furthermore, the organization has a support staff for consumers, which is accessible to help them with any questions or problems.
Additionally, Nature's Basket is dedicated to environmental and ethical activities. In addition, the organization decreases the carbon footprint connected with transportation. Nature's Basket also uses environmentally friendly packaging materials, lowering the environmental effect of its operations.
Nature's Basket is a one-of-a-kind and dependable online grocery delivery service. Customers can have a trouble-free and delightful shopping experience with Nature's Basket.
Products available on Nature's Basket:
Fruits & Vegetables – A wide variety of fresh and rare fruits and vegetables worldwide.
Common food products: Rice, grains, legumes, spice, oil, and other cooking ingredients are also available.
Organic and Health Foods – Organic and healthy products such as millet, flax seeds, and diet products are also available.
Juices and Beverages: Sodas, smoothies, tea, coffee, and alcoholic drinks are also available.
Available on both Android and iOS.
8. Zepto
Zepto is a revolutionary online grocery delivery platform changing how people purchase groceries. Zepto's user-friendly website and mobile app enable consumers to place orders for groceries from the convenience of their residences and have them shipped straight to their door.
One of Zepto's distinguishing characteristics is its dedication to supplying high-quality items at reasonable costs. In contrast to regular grocery stores, Zepto obtains its products directly from regional producers and vendors, ensuring consumers receive the freshest, high-quality food cheaply. This benefits customers and local companies and encourages sustainable farming techniques.
Another feature that distinguishes Zepto from other grocery delivery platforms is its focus on speed. Consumers can quickly explore and select things from various categories, such as fresh fruit and vegetables, poultry and meat, milk products, kitchen essentials, and household essentials. The mobile website and application are easy to use, making browsing and placing an order simple. Zepto accepts credit card, debit card, and Internet banking payments, making it simple for customers to select their preferred way.
Zepto also provides a dependable and effective delivery service. Consumers can select appropriate shipping times and monitor their orders in real-time, ensuring their groceries arrive on time and in mint condition. Furthermore, Zepto employs a staff of skilled specialists to manage order packaging and delivery, assuring that every product is processed and packaged with attention.
In addition to focusing on quality and efficiency, Zepto prioritizes customer service. Customers can contact the company's dedicated customer care representatives with inquiries or problems. Customers are more likely to keep utilizing Zepto if they have a pleasant experience with the service.
Products available on Zepto:
Fresh Fruits and Vegetables: Zepto provides a selection of vegetables and fruits that regional farmers and traders freshly supply.
Meat and Seafood: Zepto provides a variety of high-quality meats such as beef, hog, chicken, and lamb. Consumers can also choose from various fresh seafood, such as fish, prawns, and crabs.
Pantry Staples: Zepto has a large selection of pantry basics such as cereals, various kinds of pasta, sauce, and seasonings. Snacks, canned items, and processed foods are also available to customers.
Household Necessities: Cleaning goods, items for personal care, and pet supplies are among the household necessities available from Zepto. Consumers can select from various household product brands and varieties featuring sustainable, environmental, and natural solutions.
Consumers who prioritize their money, time, and comfort. Will appreciate Zepto's convenient and dependable supermarket shopping experience. Zepto has distinguished itself in the challenging online grocery market by providing a user-friendly interface, a diverse product range, and prompt delivery service.
Available on both Android and iOS.
Conclusion
To conclude, internet grocery delivery services have altered how people shop for groceries. Customers can now buy groceries from the ease of their residences, which provides them with ease, flexibility, and time savings. With the COVID-19 epidemic, online grocery delivery businesses are more vital than ever as individuals try to avoid crowded stores and limit their virus exposure. As online grocery delivery services expand and improve, they are expected to become even more popular, altering the grocery shopping process for consumers all over the city.
Also read these articles:
Chapati Vs Idli Vs Dosa: Which One Is A Healthier Option?
Side Effects of Eating Maida (A Must-Read)
Best Buffet Restaurants in Chennai (Top 10)
Origin of South Indian Dish Idli and Dosa (History Revealed)
Best Restobars & Pubs in Chennai | (Top 97)