If you're looking to find the best biryani in chennai, then this read this. Here we have listed the top famous biryani in chennai for you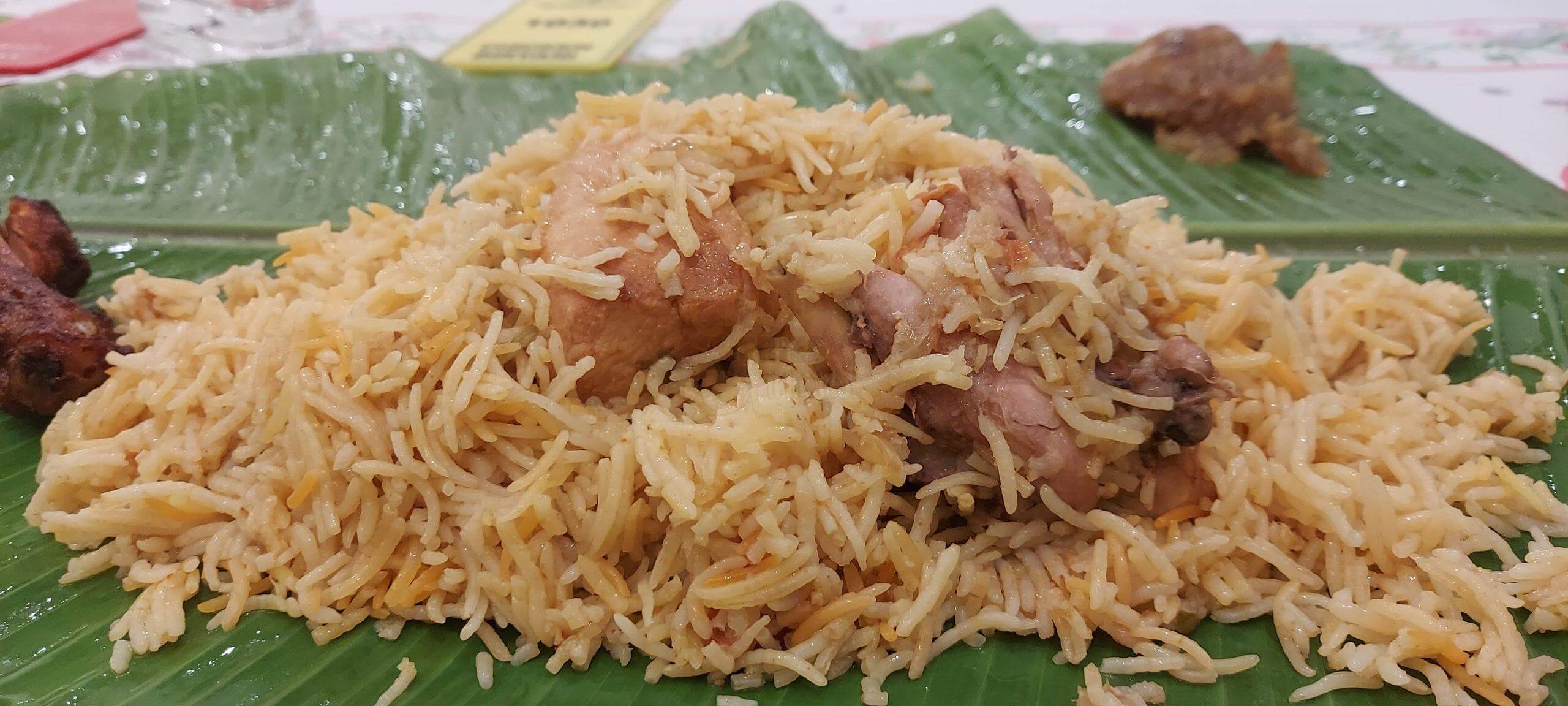 Chennai is a metropolitan city with an increasing number of food enterprises, which most of us encounter daily. Chennai is a foodie city that accepts all types of cuisine. It boasts a diverse selection of restaurants, hotels, cafés, resto-bars, and so on, but who wouldn't like biryani? Chennai residents enjoy biryani because it is flavorful and diverse. Chennai offers a wide variety of biryani eateries, and most restaurants provide biryani as it is everyone's favourite.
Here is a list of the greatest Biryani in Chennai. This restaurant serves the greatest Biryani. biryani is one food that brings happiness to a foodie in stressful times. This listen does not range according to rating, this is a random arrangement so If you enjoy Biryani, we suggest visiting all of these places.
SS Biryani:
SS Biryani is a must-try restaurant because they serve the biriyani hot and tasty. The biryani is flavorful and suited for everyone because it is neither too dry nor too flavorful. The tale of SS Biryani is an inspiring illustration of endurance. Abdul Samad, an 18-year-old lad, began his trip at a little roadside stand on Broadway. SS Biryani has expanded since its first growth in 2004, with outlets all around Chennai. SS Biryani restaurant not only provides biryani but also other foods that are as delicious. They also provide food types such as crispy chicken, 65 chicken, fried rice or noodles, and more. It is also noted for its inventive recipes, peculiar taste, and reasonable rates because it is affordable and offers a large quantity. They have several locations in Chennai, including Madhavaram, Redhills, Valluvar Kottam, Peravallur, Lighthouse, Broadway, and Perambur.
Ambur Star Biryani:
Typically, the foods we ate as children provide special comfort and security, and biryani is one such traditional Indian everlasting meal. Ambur biryani is a delicious one-pot dinner that includes juicy morsels of meat perfectly cooked with fragrant jeera samba rice, fresh mint, coriander leaves, and all spices. Because less masala is utilised, the flavour and spiciness of meat are more prevalent in Ambur biryani than in the others. Ambur star biryani is famous for its jeera samba rice biryani, which is unexpectedly tasty and uses the correct quantity of flavour and spices. Because it contains no ghee, the delicately flavoured rice is easy on the tummy.
One Biryani restaurant that has endured through the years and into its 4th generation is Ambur Star Biryani. This famous Biryani recipe was created in Hasin Baig's town to provide regal cuisine to the masses. The founder, Hasin Baig was a determined man and he served as a chef in Arcot Nawabs.
The location where you find them is, Arcot Road, poonamallee, ERC, avadi, Velachery, anna Nagar, Tharamani, Valluvar kottam, etc.
Ya Mohideen Biryani:
As they offer the tastiest mutton biryani plate at the most competitive price, Ya Mohideen biryani is renowned for its mutton biryani. They provide the most delicious, creamy, and soft beef, which is impossible to compare in flavour. The sides and mid fade of spice in the rice would encourage you to order another dish. Concerning quality and amenities, the meal would live up to the asking price. The fact that there is enough parking available is one feature of this establishment. Value for Money serves as the guiding principle of Ya Mohideen Biryani compared with other expensive Biryani eateries in Chennai. Biryani is exceptionally excellent, original, and affordable.
Sukkubhai Biriyani:
This restaurant is well-known for providing the highest-quality beef biryani in Madras since it offers succulent meat and flavorful biryani. The one hotel in Chennai should be on every food lover's must-eat list. Sukkubhai and Beef Biriyani are synonymous, even though they also have several other varieties of rice. When society was hungry for freedom due to all the conflicts, Mr Abdul Khader opened a diner called "Sukku Coffee and Kebabs" in Alandur. By doing this, he contributed to ensuring that individuals felt relaxed and content after swilling and snacking at his access point. They have a background of providing the finest food, and its legacies began in 1975. The goal is to satiate each of the customers' five senses.
Buhari:
The majority of people enjoy the biryani served at The Buhari, a hotel that is well known for it. Biryani is a delicious dish with a variety of tastes! However, it is worth every penny you spend as it satisfies the quality and quantity. Mr A.M. Buhari established the Buhari Hotel in 1951 because of his travels and passion for food. A wide variety of exquisite dishes are available, featuring the chicken 65 and mouth-watering biryani. The setting is calm and family-oriented. Don't miss the Buhari on the weekends if you have time to spare since it offers delicious biryani.
You will be able to find the branches in anna, ashok, t-nagar, vandalur, chrompet, Nungambakkam, and kilpauk nagars.
Charminar Biryani:
Small restaurant Charminar Biryani has a reputation for delivering the greatest traditional Briyani and has drawn customers from all around Chennai only to try it. It is a well-known biryani place for people who love food and is in the Chennai neighbourhood of Royapettah. It distinguishes out because of the reasonable pricing and finest taste.
A ½ Rice ₹ 55 and has an exceptionally flavorful and satisfying texture. The business is not large, but it serves its purpose because it is recognized for having the greatest biryani in Royapettah, and people used to travel long distances only to sample Charminar biryani. Do not forget to try this out.
Thalappakatti Biryani:
How could I possibly miss out on our thala? Thalappakatti biriyani is distinguished from other types of biryani by its distinct taste and flavour. They are worth eating since they offer a range of flavours. Dindigul Thalappakatti is a modest dining establishment that offers a variety of delicious food. It is renowned for its sophisticated presentation and is a good place to go if you want to satisfy your hunger with great, sanitary cuisine. The cost is a bit high, but it is worth it for its distinctive flavorful biryani.
Salt Restaurant:
I know the name seems strange, but trust me when I say it's not salty biryani, but excellent biryani. This is a must-see attraction at Forum shopping Mall in Vadapalani. Of course, with Chicken Biryani priced at 395 and Mutton Biryani costing 435, it is pricey and not an everyday restaurant However, the quality and quantity make it worthy of its price. Many food critics consider the biryani at Salt Restaurant to be some of the best in Madras. This is the best location if you're looking for a biryani restaurant with a slightly opulent environment because it fulfils your needs.
Salem RR biriyani
Salem RR is well-known for its unique food vibe, and when an enthusiastic Salem kid started his eatery right in the centre of the metropolis, Tamil Selvan worked as a personal assistant kid with a food cart food server before getting motivated to start one personally. The best service in terms of performance, volume, and flavours, and Savouring THE Authentic Flavors OF BIRYANI. He learned the craft of making biryani since he had a strong enthusiasm for cuisine. Basmati rice is used to make the biryani, and the cost is fair. Ultimately, the biryani is a delicious experience that will fill you up. They cook south Indian, Chettinad, and Chinese but you will be able to find the unique taste.
Junior Kuppanna:
In 1960, Mr Kuppanna and his wife founded Junior Kuppanna in Erode. Another 56-year-old custom that places a premium on service and flavour exists here. Junior Kuppanna biryani is a must-have if you're in Madras. The restaurant prepares each meal with love and gives a cosy, traditional vibe.
Conclusion
I hope this post helped assist you in selecting a biryani restaurant to try this weekend with family and friends.