Are you planning to go for a candle light dinner for a date? Then, here is a list of must try Best Candle Light Dinner Restaurants in Chennai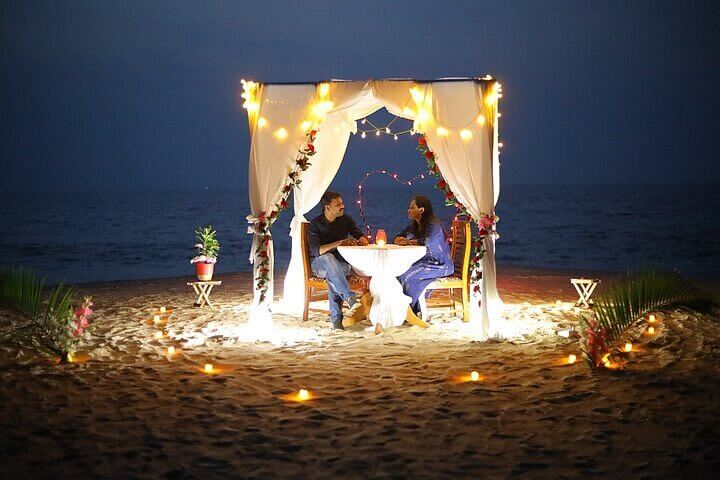 Candles can enhance a peaceful atmosphere which can improve mood and promote relaxation. A pleasant candle can also reflect positivity. Dinner served under the candlelight is a candlelight dinner, and it is popular among young adults today.
A pretty table with lit candles while dining with your date can make the evening comforting and delightful for both and can help clear your minds so you can engage in long conversations. This exquisite dinner could be lovely as it depends entirely on who we go with while focusing on each other, growing intimacy among two individuals, and spending time together without interruptions, not even phone screens essential. But some restaurants contribute more to the romantic ambience. So, this is a list of those ten incredible locations that are amazing for a candlelit dinner.
1. Bay view
The best aspect of Bay View is the open-air dining across the covelong beach with an exquisite background. Continental, French, and Italian cuisines are offered at this multi-cuisine restaurant. They combine regional pepper, tamarind, and coriander with genuine flavours. The vegetarian food provided at this restaurant is highly regarded. Try some excellent kulfi at the restaurant with your usual meal. You will likely remember the finest wine or tasty beer you can enjoy.
Most visitors mention how well-trained the crew is at this venue. The customers also love the promptness of the staff. You'll enjoy fair prices. Customers discover this place to be serene. This location received a favourable rating from Google users (4.4 stars).
Enjoy the lamb blanquettes, ratatouille lasagne, and duck confit by making a reservation in advance.
Address: Vivanta by Taj Fisherman's Cove, Covelong Beach, Off East Coast Road, Kovalam, Chennai, Tamil Nadu 603112.
2. Azzuri Bay
Azzuri Bay is a multi-cuisine fancy dining restaurant that pampers the different dishes hand-selected by skilled chefs. It has a perfect setting for creating a romantic vibe. Each item on the menu has the best flavour and is prepared by the chefs throughout the day. There is a tonne of a-la-carte selection on the Premium menu. A stunning outdoor dining area has been added to enhance the restaurant, guaranteeing customers a dreamy evening. Adyar's Azzuri Lagoon is located across from Gandhi Nagar Club.
The finest cuisines, including Asian, Mediterranean, and continental, are available there.
Delicious pasta, seafood, pizza, tiramisu, dragon chicken, chicken biryani, and lamb chops are some of the best-selling items in Azzuri Bay. The restaurant has about 4.2 ratings from its customers.
Address: 13, 1st Cres Park Rd, Gandhi Nagar, Adyar, Chennai, Tamil Nadu 600020.
3. Kipling Cafe
An oasis established in the centre point of ECR where couples can unwind and savour a delicious dinner in a setting that gives you the impression of having been mysteriously taken to a resort overseas. The restaurant offers a broad selection of beverages and small plates from its Multi-Cuisine menu, which also features several delectable Italian, Thai, and other Continental dishes. The outdoor dining area is an extra perk, and it is a large plot with bamboo huts and raw granite floor, surrounded by trees and shrubs that make you appreciate the natural landscape. The bar menu features a wide selection of wines from around the world, along with some of the exquisite trademark cocktails that are famous among regulars and is a must to try. The spirits offered range from single malts to scotches. The restaurant has above 4.2 reviews from customers.
Address: 16, L Jey Avenue, East Coast Road, Akkarai, Panaiyur, Chennai, Tamil Nadu 600047.
4. Bella Ciao
This secluded but sociable location is concealed from public view and has a genuine Italian beauty. The restaurant is best to visit in the evening because the interiors have a cosy vibe and offer privacy.
They serve mouthwatering thin crispy pizzas and decadent dishes that strongly evoke Naples.
The dishes could be rich land completely worthwhile.
The restaurant at Kotivakkam is a straightforward first-generation genuine Italian diner. The renowned wood-fired oven pizza could be enjoyed in a delightful mood on the outdoor rooftop with a lively mild climate. The dining experience is elevated with live music. Pork chops, homemade pasta, and spaghetti carbonara must all be experienced.
Address: Shri Krishna Enclave, No.4, Valmiki Nagar, Kaveri Nagar, Kottivakkam, Chennai, Tamil Nadu 600041.
5. Above Sea level
Above Sea Level is the spot for you if you're looking for a location with an impressive panorama of the entire city and also on their services. With its many amenities, the fine eating establishment becomes the top choice for diners from all walks of life. You are captivated by the alluring poolside view, the understated colour scheme, and the eclectic range of foods offered—North Indian, Continental, Seafood, Mughlai, and Fusion. The closest landmark is the Mahathriya Jewelry store. Above Sea Level is situated in one of Chennai's residential areas, Alwarpet, and admirably lives up to its name. For a glimpse of their cuisine, North Indian individuals in Chennai should attempt candlelight dinners in Alwarpet. Lamb kibbeh and tenderloin steak with a prawn pepper crust are the unique types. Resto-bar opens the door to the greatest enjoyment. Partners can explore Mughlai cuisine as well.
Address: The Raintree Hotel, No. 120, St. Marys Road, Alwarpet, Chennai, Tamil Nadu 600018.
6. Kefi
In the luxury of Kefi, explore the new Mediterranean and Spanish dishes. You can get delicious kebabs, meat, and pizza here. Good baklava, ice cream, and mango sherbet are reasons to go here. You can sample some delightful wine and fine beer you will always remember. Start your lunch with a delicious coffee, tea, or juice.
Come here to have a romantic evening or to celebrate an occasion. The professional attitude of the staff is a bonus for this restaurant. Visitors concur that this location offers excellent service. Kefi promises affordable prices. Visitors can unwind in this space thanks to the lovely décor and ambience. You can choose this curated location to have time because Google rates it at 4.2.
Address: No. 2, Club House Road, Chennai, Tamil Nadu 600002.
7. China Xo
Crazy couples who enjoy Chinese cuisine on the regular can explore China XO. The paranormal view of the bay of Bengal may cause heart palpitations. A few intriguing dishes include crispy calamari, seafood, Chilean sea bass, and chicken dim sum. The experts craft enchanted treats that tell tales of Oriental flavours. You can experience genuine oriental flavours while dining in the diner, with a beautiful view of the sea is a big win. Even better, you can take advantage of the comforts of private dining spaces. You can Browse their special menu showcasing Scallops in Xo Sauce, Cantonese chicken, Beijing-style noodles, and real Peking duck from the Chinese territories of Canton and Sichuan. The restaurant features Chinese and seafood cuisines. The famous dishes are Crispy Lotus Stem, Dim Sums, Soup, Desserts, and Fried Rice.
Address: The Leela Palace, Lower Lobby, Adyar Sea Face, MRC Nagar, Raja Annamalai Puram, Chennai, Tamil Nadu 600028.
8. Up North
Authentic North Indian food, renowned for its indulgent use of spice and mouthwatering aroma, is served at the signature restaurant Up North. American merlot is expertly prepared at the rooftop diner. Teynampet is the location where it is situated. You need to make reservations to take in the scenery. Their food incorporates tastes from north India. In addition, dishes like kebab platters, butter chicken, and corn pulao should be noticed in the restaurant.
The combination of various flavours and a hearty gravy gives diners a soul-satisfying flavour. The charming decor of the perfect setting is gorgeously matched with magnificent outdoor dining. The exquisite cuisine has been meticulously crafted to ensure that each dish embodies the taste and spirit of traditional Indian cuisine. Every meal they serve represents the flavour and the nature of traditional Indian cuisine. They also offer a wide selection of bar dining. In Teynampet, Up North is situated across from the Apollo Hospital. The restaurant is best known for its north Indian dishes and got an incredible response of 4.4 ratings from the public.
Address: The Raintree, 636, Satya Murthy Nagar, Teynampet, Tamil Nadu 600018.
9. The Crown
An exquisite dining venue in the Crown is admirably located on the Residency Tower's rooftop in Thyagaraya Nagar, Chennai. Due to its serene and soothing outdoor seating, the eatery offers its patrons an extraordinary experience. It has a pleasant, mellow ambience. The most delicious North Indian and continental dishes are provided at The Crown. The location is ideal for a romantic weekend break. The best landmark is Meena Kampala Arcade. The Crown is a fantastic Indian eatery with an overwhelming selection of beef steak, fish grill, and mushroom palak kebab. For romantic lovers, the pool and music can set the ideal ambience. The restaurant is best known for its European and North Indian dishes. The crown restaurant has a decent 3.9 rating from its customers.
Address: 115, The Residency Towers, Sir Theagaraya Rd, T Nagar, Chennai, Tamil Nadu 600017.
10. Sunset Grill
The fine-dining Sunset Grill restaurant combines the luxury of grilling with the finesse of gourmet cuisine to create a unique eating experience. It also features a spectacular view of the Velachery horizon from the terrace dining with modern natural wood furniture and vibrant accents. It excels in serving cuisine from around the world. The Sunset Grill is ideal for a candlelit supper because of its lovely outdoor seating and rooftop view. It is situated in Velachery, South West Chennai, at The Westin Chennai hotel. While dining on the Sunset Grill's rooftop, the tangled Guindy jungle is unsettling. This restaurant has lovely ambient illumination. The best possible choice is the flexibility to pick the char level. The barbecue cuisine is satisfactory. The major courses that can be experienced include tandoori chicken combo, boti talwar kabab, and fried pita bread. You can try out in the restaurant and have a good time with one's partner. Wherever we go, and however we eat, the focus is always on the person we are having fun with. The restaurant has a solid 4.1 rating from its loyal customers.
Address: The Westin, Lobby Level, Velachery Main Road, Velachery, Chennai, Velachery, South Chennai, Chennai, Tamil Nadu.
Hope now you're aware of Best Candle Light Dinner Restaurants in Chennai, if you find this article was helpful to you, then feel free to share it with your friends about Best Candle Light Dinner Restaurants in Chennai article
Also read this article: Top 10 Places To Eat Best Biryani in Chennai