Are you looking for a new experienced with theme-based restaurants? Then read this article to find out the Best Theme Restaurants in Chennai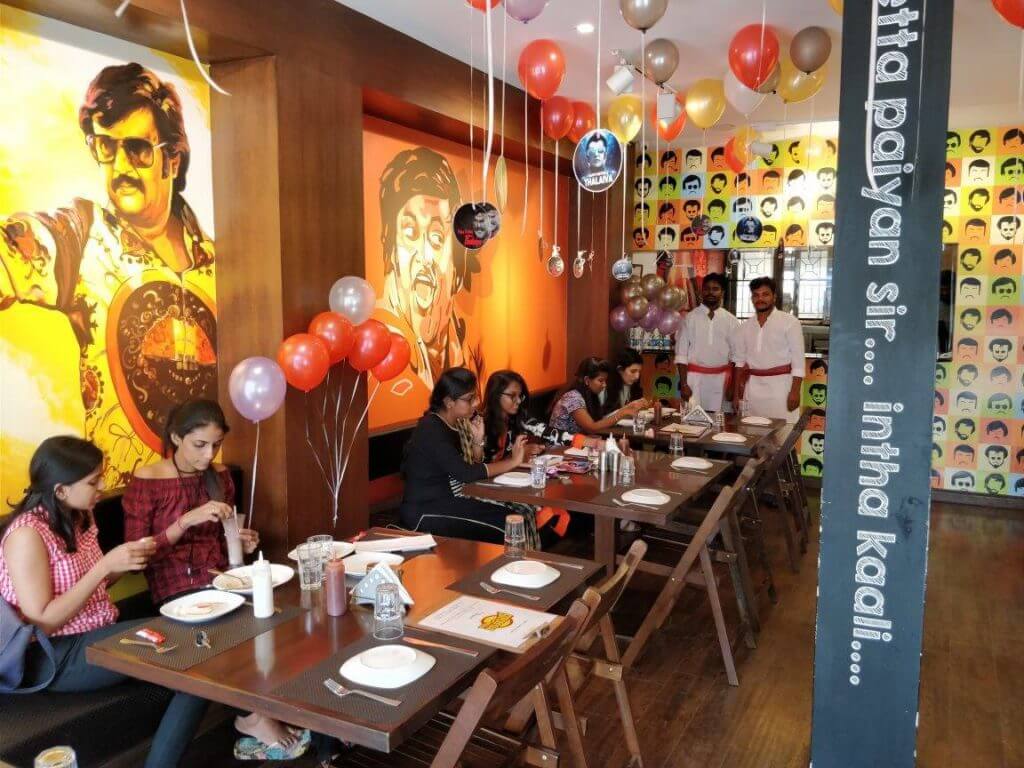 One of the leading businesses in Chennai is theme restaurants, which give customers a living experience of the theme they've chosen and include food and beverage on the plate. Chennai is a growing city, as evidenced by the city's efforts to establish new and cutting-edge dining options and recreational areas. Eating experiences are more entertaining when based on macabre or bizarre themes. Because children will have so much fun at a restaurant with a mind-blowing theme, adults and children alike will find it irresistible to dine there. These restaurants also feature a fun and friendly atmosphere, making them a popular choice for people who want to spend their limited free time having as much enjoyment as possible while indulging in their preferred tasty dish. Here is a list of the top 10 exciting and unique themed restaurants offering first-rate service and delectable food.
1. Rain forest: with a lovely ambience to exposure of rain forest.
The Animal Kingdom is next to the Rain Forest Restaurant in Adyar, and the same management company runs both establishments. The Rain Forest Restaurant has stunning decor, with its unique characteristics seen in every interior, and the restaurant's theme is centred explicitly on the rain forest. You will also get the opportunity to interact with lifelike animal replicas that are placed near you. This restaurant does not provide a buffet, but they make up for it with their delicious appetizers and the fact that they are happy to host birthday parties or other types of meetings. The restaurant has low lighting throughout the room and offers an ambience conducive to gatherings with friends and family. It is neither a resto-bar nor a bar. Thus there is no alcohol included; nonetheless, lovely and reasonably priced delicacies are available, such as crispy lamb, dragon chicken, and fish fingers, along with first-rate service. They also enjoy the fact that there are several options accessible to them, such as vegan cuisine, halal food, and vegetarian food are also offered.
Address: Adyar
Price: ₹₹
2. Kaidi Kitchen – fancy Theme Restaurants in Chennai
The Kaidi Kitchen is a vegetarian restaurant that serves only the highest quality foods worldwide. The menu is pricey. However, it's well worth the cost since the atmosphere and décor will offer you the most excellent possible dining experience. The Kaidi Kitchen eatery is found in Mylapore and utilizes a jail-based theme. They provide creative cocktails, and if you make a reservation, you may have lunch at their buffet, which is also available. They cover many cuisines worldwide, including North Indian, Italian, Thai, and Mexican. It would be best to sample some well-known dishes, such as lasagna Mexicana and Amritsari chole kulcha. The restaurant provides outstanding service, and the food is of the highest quality. They not only contain vegetarian foods, but they also have vegan dishes, so you should not pass up the chance to experience prison while enjoying comforts.
Address: Mylapore
Price: ₹₹₹
3. Haunted: wanna get spooky, then try haunted?
The first haunted house-themed restaurant with an unlimited buffet will be found in Chennai. This scary restaurant will make you feel like you are in a haunted house since the hotel is decorated with a haunted theme. The interiors have been designed with creepy dolls and tails, and the lighting complements the restaurant's dark atmosphere. This restaurant serves meals from Indian, Chinese, and Arabian cuisines, and the service is so good that the wait staff will come back to torment you at the most inopportune moments. The restaurant is inexpensive, with acceptable costs, and it serves Halal cuisine for ordinary rates, even though it is of high quality and provided in large quantities. This eatery can be found in the neighbourhood of Anna Nagar. This restaurant caters to families. Thus, they don't sell alcoholic beverages but have a buffet. The level of service is quite commendable. Mango payasam, the restaurant's namesake dish, is an absolute must-have and should not be overlooked.
Address: Anna nagar
Price:₹₹
4. The Waterfall: experience live waterfalls
Since the restaurant has a meticulously crafted environment that exudes a genuine atmosphere, it is my favourite themed dining experience. It is ideal for families and couples to have dinner together since the restaurant has a soothing atmosphere that can be enjoyed while listening to the sound of waterfalls in the background. The inside is breathtaking, including stone walls and a replica of a waterfall. It has adequate room for secure vehicle parking and is situated in the heart of the significant neighbourhood of Vadapalani. Please do not miss the opportunity to try their north Indian cuisine since the restaurant is renowned. Their chicken kali mirch, chicken tikka, and paneer tikka masala are among their most mouthwatering dishes. One must sample the beautiful red velvet dessert jar. A varied menu is offered at prices that are acceptable and satisfies customers. However, there are no amenities such as elevators for older people.
Address: Vadapalani
Price:₹₹
5. Winter Palace: wanna go to Moscow and try a winter palace?
The Winter Palace is Chennai's first and most successful themed restaurant. It was designed to evoke the atmosphere of Moscow. Visit this first-rate restaurant to get a feel for what it might be like to dine in Moscow. They pay as much attention to the restaurant's décor and interior as they do to its cleaning and do it with an unusual degree of particularity. The building is in excellent condition, the service is satisfactory, and there are enough employees to attend to your needs. The menu is extensive, providing a selection of distinct culinary options at affordable prices. Chicken a la Kiev and beef stroganoff are two meals you must sample due to their notoriety and the fact that many people like them.
Remember that these are Moscow-themed restaurants, so the menu best suits those who want foods with a neutral flavour profile. Please do not miss the opportunity to try their delicious pies and cakes, their hallmark dish. Because this establishment sells alcoholic drinks, it is a good choice for young people and couples. Don't miss out on the opportunity to sample the offered Russian vodka.
Address: Alwarpet
Price: ₹₹₹
6. MadHatter's Tea Garden: tea party?
This themed restaurant has an Alice in Wonderland atmosphere and is appropriate for children obsessed with Alice. These children will surely enjoy their stay at this themed restaurant since it has an Alice in Wonderland atmosphere. The arrangement is cosy, and the atmosphere is just right for having coffee, tea, nibbles, or a salad. Despite this, if you are interested in having a hearty lunch, you shouldn't miss the opportunity to order our roasted chicken, pizza, or grilled chicken. It is also perfect for those who like reading books since the atmosphere is relaxing, and one of the most thrilling combinations is to have books in one hand and excellent continental cuisine in the other. They are also responsible for the children's birthday celebrations. It is in the Chetpet neighbourhood, but the only problem we've ever encountered there has been the presence of flies and insects because it is an open area.
Address: Chetpet
Price:₹₹
7. Chocoholick: chocolate, chocolate, chocolate!
This themed restaurant is entirely based on chocolate. The restaurant located in Nungambakkam is ideal for those who have a passion for chocolate. As the entire restaurant is based on chocolate, chocolate is the main focus, so they provide it primarily based on chocolate. They have mouthwatering chocolate posters on the walls, which may be found everywhere to get you in the mood. Try out their pancakes, cupcakes, brownies, and hot chocolate, all provided at very reasonable pricing. They do not provide chocolate items but also offer some delicious soups and appetizers available. The chicken taco bell serves up some fantastic food.
Address: Nungambakkam
Price:₹₹
8. Ciclo cafe
This restaurant is built based on the cycle, a paradise for people who enjoy riding bicycles. The entirety of the space has been embellished with components of a motor. Cycle components create everything from chandeliers and lights to table legs, chairs, and clocks. The cuisines of France and Italy both provide delicious food. The personnel provided excellent service, beautifully presented the dishes, and provided car parking service.
Price:₹₹₹
Address: kottupuram
9. Superstar Pizza
Suppose you are looking for a restaurant entirely built on superstars and interested in experiencing some Chennai-style superstar vibes. In that case, the most fantastic option is the superstar pizza-themed restaurant. The decor is uncomplicated but exudes a warm and welcoming atmosphere with memorabilia such as portraits of superstars, posters, and autos.
The restaurant serves food in an Indian style, and some of the dishes, like beef steak, fish grill, and mushroom palak kebab, are very tasty. Additionally, the music and the pool game can create an ideal atmosphere for romantic interactions between two people.
Address: Anna nagar east
Price:₹₹
10. The 90's Cafe and Lounge
Are you interested in reliving the decade of the 1990s?
This cafe in Anna Nagar east evokes feelings of yesteryear among its customers. It was developed with children of the '90s in mind from the ground up. It brings back memories of you swinging on swing sets, climbing trees, and watching cartoon networks. Although the service is pretty slow, the food is delicious. The wall is covered with artwork that depicts various artefacts. The fact that you can enjoy Super Mario is the most impressive thing. The chocolate cookie shake, the pasta, and the milkshakes are all delicious, and the prices are reasonable.
Address: Anna Nagar east
Price: ₹₹
Conclusion:
These are the epitome of successful concept restaurants, each created with a specific purpose. Mark your preferences and get ready to embark on an adventure with your loved ones and closest companions, during which you will encounter fascinating topics and savour delectable dishes.
You might also be interested to read this article: The 10 Best Candle Light Dinner Restaurants in Chennai